Ibogaine Treatment Reviews
Clear Sky Recovery's Patients, share their Experiences
This program saved my daughter's life – without Clear Sky Recovery and the wonderful work and dedication of Dr. Alberto Sola, our story would have ended differently.
My daughter was addicted to opiates. We tried every modality of treatment to get her the help she needed. Too many treatment centers to remember, too much money spent and too many tears and heartache to even discuss.
We tried methadone, suboxone, we tired tough love, we tried involuntary treatment, we tired detox, we tried unconditional love, patience and all failed. We were on a steady decline… which surely would have ended with my daughter's death.
My daughter had told me about Ibogaine and asked me to research the treatment……at first, I was totally against the idea…..Why would I send my daughter to a clinic in Mexico for a treatment which was not approved by the US govt. How could I send her to a program where she would be given a hallucinogenic substance and how could that stop her addiction????
One night in my total despair, I googled Ibogaine, I knew the end was coming soon for my daughter. I wrote a long heartfelt plea to the clinic. Two days later, Dr. Deborah Mash (Dr. Mash is a neuroscientist at the University of Miami and had conducted clinical trial studies on ibogaine) contacted me….she had read my letter… she knew we needed help and she knew we needed it immediately.
Dr. Mash explained the workings of Ibogaine… how it re-sets the brain to pre-addictive state, how the hallucinogenic effects were the equivalent to 10 years of psychotherapy in one dose. She explained her studies of the effects of Ibogaine on the brain…..the success stories…..the people who had gotten better.
On a total leaf of faith… feeling as though we had no other options, I made arrangements to send my daughter to Clear Sky…….The waiting was painstaking, not quite sure what the outcome would be……Three days after her arrival at Clear Sky, the phone call came – on the other end of the phone was my daughter – she was alive…..and she her voice sounded as I hadn't heard it in years… my daughter was back!
I flew to the aftercare treatment we had arranged to attend a family week…..I was still not sure who would greet me. When I walked in the door, my daughter approached me and hugged me. When I looked in her eyes, I can honestly say, it was the first time in so many long years, I saw my daughter looking back.
My daughter is clean, living a productive life, back in school and working full time… This could not have been possible without Clear Sky and the treatment provided by Dr. Alberto Sola.
Dr. Sola is an medical physician, trained by Dr. Deborah Mash in ibogaine. Dr. Sola has a full nursing staff on premises. At no time is the patient left alone or uncomfortable. Ibogaine allows the addict to comfortably detox, without withdrawal or cravings. As Dr. Mash stressed… Ibogaine is not a magic bullet… Work still needs to be done by the addict to maintain their recovery.
If anyone wants info or would like to discuss this treatment option, please feel free to contact me @ [email protected]
I can honestly say I now believe in miracles!!!
Footnote: there are many clinics in Mexico, Canada and abroad, however, most are not owned and operated by an MD. Please be wary of bogus claims by other providers. Ibogaine should only be administrated in a medical setting with a trained physician.
After a friend connected me with the amazing woman who is the contact for Clear Sky Clinic in San Fransisco, she was able to get me in 3 days later. I arrived in Cancun, Mexico on January 24, 2015. It was a beautiful time of year there. The head nurse from the clinic was at the airport waiting to take me to the clinic. When I arrived at the clinic the first thing I noticed was how good it felt there. The energy was warm and inviting. It is open, bright, fresh and clean. Immaculate!
I was treated like a queen. The staff is AMAZING! They made sure I had everything that I needed. The doctor's were very conscientious of all my needs, checking in daily one on one. I was pleasantly surprised I was taken to a cardiologist and had an ultra sound done on my heart, blood work, and urine analysis to make sure I was healthy to undergo treatment. There are several nurses, they are there 24 hours a day.
There is an awesome cook that cooks 3 meals a day, a massage therapist that comes once a day before dinner. A super sweet house keeper daily, and last but not least and amazing fitness coach!
Its so nice to be able to go out walking on the beach, snorkeling, and/or the Beautiful Mayan Ruins down the street! The villa is right on the beach, and there is a pool as well. This was so nice for treatment, detox, and the beginning of my new healthy life!
The staff is very very professional and is very very good at what the do. I was comfortable the entire time!
Thank you so much Clear Sky Ibogaine Clinic for being so wonderful, and making this world a better place!
Words can never express my gratitude to you for literally (and I know this without a doubt) saving my son's life. The kindness and care you have shown during this difficult time has been such a blessing to my son, myself, his father and our family, we are truly truly grateful for everything. You have all gone above and beyond to take care of him and keep him safe from the beginning, and now going the extra mile when we needed you this last couple of days with the flight issues we can't thank you enough. Again…words can never express…please know you are all in our hearts eternally.
With much love and gratitude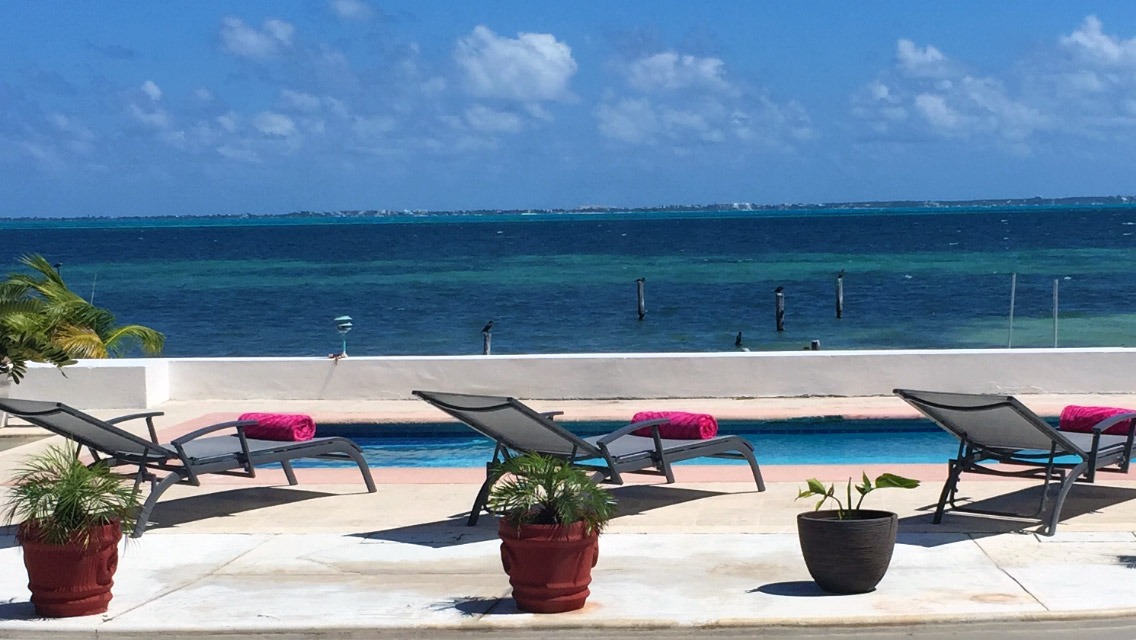 Hey Laura!
I am back from my treatment and I wanted to tell you, and everybody involved with making this possible THANK YOU! I am now suboxone free with absolutely zero withdrawl. It was a life changing event for me and it has totally changed my way of thinking!
Along with the suboxone i had a lot of things that I did in the past that I couldn't keep hiding away, it only brought me down. I am now full of life and want to live to the very best of my ability. One month ago I would just as soon be dead, I did not have the ability to have feelings or show love. I was just an empty body walking around. I have now put the past behind me and I am ready to live the rest of my life. My wife is so HAPPY to have me back, I now look forward to getting up in the morning and going to bed, instead of me being put in the ground I was able to bury my demons and kick them down.
Theres only one thing that I wish and that would be to have found out about Ibogaine sooner! I just happened to stumble upon it on the internet one day and when i was reading peoples stories, i would break out in tears because something so good could not possibly be true. I was wrong! I had a very emotional trip, I had a lot of guilt built up because of all of the damage that I had done with my family and my son. I look forward to 5 years from now I will take my wife to Cancun and personally thank everyone there!
Thank you guys SO MUCH!
What an amazing journey. Seven years bound to a drug that kept me in a 12 hour pendulum of being deathly sick, or having to feed something that would eventually kill me. I had tried 50 times to quit in the past, each time ending in failure and despair. My hope had left me, and only glimpses of it could be seen in my loved ones. Clear Sky was a last resort, a long shot, something I was doing for others really, for I thought it was to good to be true. How could something reverse the brain chemistry that put opiates as a top priority in my life? It seemed like a false opportunity, but I had tried everything else so why not. Tapers, suboxone, cold turkey, rehab, all failures in beating something I wanted out of my life so bad. I almost convinced myself that opiates would be a part of my life forever, with my kids only knowing the zombie father they had become accustomed to, my wife hanging on by a thread. I left for Cancun, only feeling the hope of my family, not my own. But what happened there was nothing short of a miracle for me. Maybe not a miracle in the biblical sense, but certainly a personal one. I woke up from treatment as if I was reborn, alive with senses I hadn't felt in years, colors, sounds, emotions, flooding through me. I wasn't sick, far from it, I was me. I was the person I was before I became enslaved to oxycodone, soon to be heroin. I'm home now, and i won't say it is easy, there is a lot of work to be done. I had formed many habits over the years that need to be broken, but i have the ability to fight through them because i am not overwhelmed with cravings every second of the day. I won't say i don't think about it, I do, but there is a massive difference in thinking than craving. You can beat thoughts, beating cravings is nearly impossible, especially when they never leave you. Ibogaine and Clear Sky have given me more hope and an amazing opportunity to be the father and husband I so want to be. Thank you so much, the experience was amazing, I always felt safe, and a lot of love. If anyone wants to speak to me about it, please feel free to reach me at [email protected]
I want to sincerely thank you for all of your hospitality, support, and advice throughout my treatment. I really loved everything about my trip to Cancun.
I cannot express into words how much this Ibogaine treatment has inspired me to "wake up" and enjoy life! There is just so much I want to do and too many places I want to visit—Ibogaine was my jumpstart!! I owe you a HUGE Thank you!!!
I'll keep you posted on my progress next week via email. Im looking into to support/recovery programs and have also started pilates classes. So far I have been able to go out with my friends during the day and night and not had the desire to drink…it's time for me to experience this side now–and it's actually fun!
Hope all is going with my entire "Mexican Family" Give them a "hello for me" I bet you're getting very anxious for your vacation. Don't forget to ice your leg!!
For myself, Ibogaine was a multitude of prisms, allowing a dull desensitized being entry through portals into a higher understanding. Upon entering the world less visited, I was granted a concise, unadulterated introspection into my own character. My triumphs and defeats were on display without any type of bias, leaving me to construct my own personal conclusions. Today, I dance with hues of utter brilliance. It is not that living is easy, I'm just able to adapt and overcome.
It's not a magic bullet to cure the whole problem. It's a combination of the plant and you. The plant teaches you and returns you to clarity. It offers you hope and brings you to a point where you want to be, and then you have to finish it. Eventually, the chemicals or psychoactive ingredients of Ibogaine have to let you go in some way, but I was spiritually touched and that never lets go.
You don't just take Ibogaine, walk away and say 'I'm magically healed.' It does give you the ability to be at ease with yourself. It takes away compulsion and the cravings. It is a catalyst that puts you in a state of mind that you are techable, where you desire to be a good person and can get back to living a positive life.
Who would have thought that over 14 months ago I'd now be clean and sober? Who could have imagined I'd be happy, joyous and free from the sickness that I've lived with each and every hour of each and every day – let alone still be alive to speak of it?
I'll never forget the night that I got to Miami and met Dr. Mash and her staff. I couldn't know that this program – these wonderful people and the root Ibogaine – was to be the catalyst for change in my life, the catapult to hurl me into my recovery. I was someone who hadn't long to live and could barely get well enough to take Ibogaine.
Now I hate to even imagine missing the chance. I couldn't have dreamed a better dream, and I'm told that what I have now is only foreplay – get out of here!
I could go on for hours about how Ibogaine changed my life. I became willing: willing to change, to live, to love and to be loved.
Great to hear from you. I apologize for not getting back to you. I've just been distracted-in a good way- feeling much better, being suddenly more active than ever before. Below I'll summarize briefly post-ibogaine recovery:
I can say with certainty that between 3-4 weeks was all it took- at least in my case of suboxone/morphine- to feel 98% better which means sleeping normally 6-8 hrs, dysphoria and mild depression dissipate replaced by a general sense of well-being, optimism, and a desire to enter into life: relationships, work, creativity, fun, etc. Between 5-6 weeks 100%- stomach functioning normally, tolerating all foods and even caffeine; and in the gym 3x a week: weights, cardio- fine; and a return of higher mental function: being able to read for long periods of time, hold my attention, etc. I will say hoping not to risk your concern that substances- marijuana and alcohol- have little effect at all, lack the pleasure they once associated, and are more or less undesirable. There continues to be- since the Ibogaine experience itself- NO desire for opiates in any form. Furthermore, the "fantasies" of the heroin-user lifestyle have no attractive power and are seen to be puerile, uninteresting, and false- as are all drug abusers, especially heroin/opiate addicts One of the most amazing and consistent effects post-ibogaine has been a complete lack of anxiety this entire time.
Anxiety was always a feature of my past attempts at recovery from opiate addiction, and often the factor in relapse. But since Ibogaine there has been no anxiety- and although there was some discomfort for several weeks following I never "suffered" nor associated the discomfort with opiate withdrawal. Whatever the discomfort associated with this method of detox I did not associate it with opiate withdrawal- even the insomnia was qualitatively different and- given a week or so, very tolerable. My advice to anyone going through post-ibogaine discomfort would be to see it not as a lingering withdrawal nor even an effect of the noribogaine- but as a necessary process of re-learning how to use one's body after a long absence- like a baby learning how to walk and control their bodily functions.
This metaphor of the baby may be too extreme but is somewhat appropriate as ibogaine research suggests that Ibogaine induces a prolonged REM state comparable only to the great amount of time infant's spend in an REM state- this peculiar state allows for the rapid building of the infant brain- and the re-building of the addicted brain during ibogaine detox. Another metaphor would be learning how to drive stick-shift after a lifetime of driving automatic cars. It takes a few weeks to calibrate and learn this new vehicle, but once mastered one drives faster and better than any automatic.
Anyway, sorry to be long winded there.
Thank you again Irene for everything. I sincerely wish you the best, and hope to talk soon.
This is the only way I knew how to get in touch with you. you and let you both know I picked up my 30 Day Chip at AA today!! It has been a long time since I've gone 30 days without drinking. I absolutely owe it all to you and the Ibogaine treatment.
For the past two or more years I have been attending AA meeting daily, would go about a week at a time without drinking….only to start the vicious cycle over again. I have been detoxed countless times and have completed stays in rehab. After my treatment I just felt different. Even after the initial (somewhat euphoric) feelings wore off….I still felt like I had been cleansed. It's very hard to describe how you feel afterwards. All I know is it used to be absolutely impossible for me to not take a drink…..Now, it's possible for me to stay sober.
Thank you guys for everything!! I hope you are well! Say hello to Ceci and Alex for me!!
I was a patient at Clear Sky Recovery this last December in 2015. Really had an incredible experience with Ibogaine, so much so that I have begun to be a source of information and experience for my friends who are struggling with similar problems that I had before coming to Clear Sky.
I cannot thank you all enough for the care and effect this experience has had for me and my loved ones. I truly feel free. Thank you so much and I look forward to spreading the word about this truly incredible treatment option.
Anniversaries are a good time to reflect. It has been one year since I received my Ibogaine treatment from Clear Sky Recovery and I would like to share some thoughts on how this year has been.
My "drug of choice" was any narcotic I could get my hands on. I am happy to say that I have been drug-free since my Ibogaine treatment. That says a lot since I have been a constant user for more than 20 years.
Has this past year been easy? I wish I could tell you it has. I would love to say that my life is completely changed and that Ibogaine changed my outlook from negative to positive; that I was an introvert before, and now I seek out people and love to socialize; that every morning I wake up happy, energetic and motivated. But that is not the case. I am not a completely changed person, but then, Ibogaine is not a cure-all. Nothing in life is. However, I would like to share how this year has been different compared to the hundreds of times I previously tried to quit the use of narcotics.
There is no doubt that Ibogaine freed me from the agonies of the physical withdrawal that had always followed my abrupt cessation of narcotics. With Ibogaine, I became tired, but the dreaded pain and aching didn't happen. When I returned home, I did have to resume taking antidepressant medication, but I've had to deal with depression longer than my addiction to narcotics. So, to say that I had no mental withdrawal is not as easily determined because of my prior chronic depression.
As the year progressed, I felt subtle, but real changes in the way I view myself and deal with my life. Always before, I had to have "props" to hold me up and keep me going – positive strokes from those around me, drugs, society's measures of success, etc. But during this past year, all these props have been stripped away and my view of everything I thought was important and necessary has changed. It is difficult to put this into words. I have discovered a "spark" within myself that I never noticed before and maybe this signals the true self that was so elusive in my past.
This spark has grown into my prop that I now lean on and gain strength from. I still have my weaknesses and sufferings and I know now that there is no such thing as a quick fix. My current shortcomings can only be overcome by old-fashioned pain, sweat, fear, guilt, perseverance, suffering and disappointment. But, for the first time in my life, I believe I can cope with this difficult process without reverting to those artificial and temporary props. For the first time, I feel good about myself and know that I am truly a worthy human being without someone telling me.
This is a real milestone. A chance occurrence? After all these grueling years, I don't think so, but you be the judge.
Everyone is different and I believe that the effects of Ibogaine will be different for everyone. The important thing is not to get some preconceived notion of Ibogaine's effect. Just be open to the possibilities because if it can have such a positive result on someone such as me, I have no doubt it can do wonders for others.
I came here for the treatment looking for answers in my past. I see now that the answers are in my future. Ibogaine was like a key that opened my mind.
It made me realize how my abuse was just so cyclic – switching on and off, but always staying in one place. It was telling me that substance abuse was keeping me stopped at a certain point … Today I can see so many changes in my perspective and what is important to me. I wouldn't trade the experience for the world. I feel great.
Ibogaine is a teaching tool. It taught me that there is potential inside. And if you can tap that potential, you can use it to help in your recovery.
A Foundation for a Drug-Free Future
Prior to doing Ibogaine, I had tried pretty much every opiate detox on the planet. While all these methods work to various extents – this isn't saying too much. All you really need to get off opiates is an empty room and time. Heroin addiction wasn't my problem, it was my solution. My problem is the fact that I've come undone psychically, mentally and spiritually. Even after heroin stopped "working" (taking it to get normal and function), it still provided an emotional anesthetic, killed my feelings, and stopped the noise in my head.
When all of this gets stripped away, I always felt I needed quadruple bypass surgery and someone handed me a Band-Aid. Prior to participating in Healing Transitions' Ibogaine program, my self-medication had risen to a daily intake of heroin, methadone and Xanax with an occasional drink thrown into the mix.
With Ibogaine, the entire process of withdrawal is over within about an hour. It's unlike anything else I have experienced. On a physical level, what occurs amounts to a miracle. Your habit is simply non-existed and you're reset to a pre-addiction modality. There are no cravings afterwards.
This sets the stage for the "visionary" phase of the experience. Points of commonality participants have shared include: being in a space where you're confronted with all of yourself – whether you call this the subconscious, superego, whatever; it's a few hundred years worth of therapy with a really good therapist. You're forced to deal with what's inside, to come to terms with who and what you are, and to process why you've taken actions that led you here in the first place.
You also come in contact with the basic, underlying principles that govern your personal existence. In short, you reestablish a connection to your own spirituality – whatever this might mean to you.
When you come back down to earth, you're in a highly suggestible state and open to "imprinting." The Advanced Health Transitions staff is aware of this and work with you to build the foundation for a drug-free future. Again, there is no single correct solution or answer regarding what these beliefs should be.
Heroin doesn't feel good – it feels like nothing. When you're in agony, numbness is like the hand of God passing over you. If you process the pain, and actually experience what it's like to feel good again, then desensitization isn't an improvement. For the first time in a very long time, heroin doesn't seem that seductive to me.
I can honestly say that without Ibogaine, it's unlikely I would be clean. Instead of being drug-free longer since roughly the age of 13, I would be stuck in an endless cycle of detoxing; re-realizing "Ya know, this really hurts a lot." Talking about this in groups or with shrinks doesn't cut it for me. My reaction has always been forget it, where's the dope.
I'm extremely grateful to have gone through the treatment. This is the longest I've ever been clean and it just feels so good.
I was depressed before coming here for treatment. Today, my withdrawal symptoms are gone and overall, I feel mentally and physically healthy again.
Ibogaine forces you to have a scathing self-inventory of yourself. You're forced to confront your fears and deal with them until you come out understanding a little bit better. Each person's journey through recovery is highly individualized. Ibogaine is a teaching tool within, and I definitely think it can be helpful for others.
Clear Sky Recovery, Ibogaine Detox Center is amazing! The focus here is on actually recovering, healing, and powerful psychedelic introspection. It's about empowerment instead of helplessness. Instead of powerlessness it is about taking control. No one here is telling me to admit I have no control over my behavior, that I am a slave to a drug. Instead they offer a solution, god given and natural as birth, to grow through this process and to take control of my thoughts and behaviors. The 12-step model is dead, and so very wrong. Plant medicine is the way of the future; I am so blessed to have access to something like this.
I can't believe I went through previous experiences at other detox centers around the states where it cost over 10 k to be locked in a room and force-fed xanax and antipsychotic drugs while my body and mind withered away. Screw the American recovery business. What a scam. I don't know why anyone would ever go through to old model when this is an option.  I feel great since the treatment, and their caring and compassionate staff is far superior to any other facility I have ever been to.  Thank you, Clear Sky Recovery!
After 10 plus years of chronic addiction, I discovered Clear Sky Recovery's Ibogaine Detox Center in Cancun, Mexico.  This clinic and my experience with Ibogaine changed my life for the better.  I had been to countless treatment centers around the world, and was met with little to no success, that is until I found Dr. Alberto Sola and Clear Sky Recovery.  The staff is so professional, caring and compassionate; they are truly some of the most amazing people I have met in any detox center or rehab (and I've been to a lot).  I felt totally safe through the procedure, all along knowing that Dr. Sola is the medical director of the hospital in Cancun. The clinic is also fully licensed with medically trained professionals. I have heard some sketchy stories about other facilities, but rest assure, you will be in good hands here.  I am so grateful to have found this ibogaine treatment center.  It gave me my life and family back, and turned me into a productive and happy/healthy person.  I am only alive today because of Dr. Alberto Sola.  Thank you from the bottom of my heart, Dr. Sola, you and your treatment center are truly the best!
After 10 plus years of chronic addiction, I discovered Clear Sky Recovery Ibogaine Detox Center in Cancun, Mexico. This clinic and my experience with Ibogaine changed my life for the better. I had been to countless treatment center around the world, and was met with little to no success; that is until I found Dr. Alberto Sola and Clear Sky Recovery. The staff is so professional, caring and compassionate; they are truly some of the most amazing people I have met in any detox center or rehab (and I've been to a lot). I felt totally safe through the procedure, all along knowing that Dr. Sola is the medical director of the hospital in Cancun. The clinic is also fully licensed with medically trained professionals. I have heard some sketchy stories about other facilities, but rest assure, you will be in good hands here. I am so grateful to have found this ibogaine treatment center. It gave me my life and family back, and turned me into a productive and happy/healthy person. I am only alive today because I found Clear Sky Recovery Ibogaine Detox Center and Dr. Alberto Sola. Thank you from the bottom of my heart, Dr. Sola!
With this treatment, I've learned to experience life, rather than analyze it.
The Benefit to the Long-Term Addict
As a 47-year-old recovering junkie, I'm speaking from 28 years of use, addiction and numerous attempts to recover – all culminating in the Ibogaine experience.
I have used methadone first to get high, then for detoxification, and finally for maintenance. Eventually, I discovered that the worst aspect of prolonged methadone use is that even after a slow and careful detoxification by any means, one can continue to be dopesick for months or more than a year. My own experience, and those of many other older addicts, is that the fear of withdrawal is so powerful that most cannot withstand that miserable feeling for a long period. However determined one is, most finally succumb to the urge to feel better, and relapse.
The Ibogaine detoxification treatment successfully addresses this problem. After one dose, virtually all withdrawal is banished, save for some nights of insomnia and a week or two of diarrhea, the latter easily treated by over-the-counter medicine. Dopesickness, as well as one's habit, obsession, etc. become rapidly fading memories.
This treatment is a miracle – and possibly the only real treatment for long-term methadone users. I found no undesirable side-effects to detract from the miraculous nature of the Ibogaine experience.
I have knows Andrea for almost 15 years and the transformation I have seen in her over the last five years has been truly amazing. Andrea was an extreme drug user and everyone around her felt the effects of her abuse. She was a detriment to everyone from her family to her friends.
Andrea actually had very supportive parents, but they never knew what to do with her. A few times they successfully checked her into conversational rehab programs, but those attempts were futile. I watched them care so much while spending tons of money, but Andrea's problem was not the kind of problem you could just throw money at. A few times her father would show up at my house looking for help, but even with everyone putting their heads together we were all coming up with a loss as to how we could help her. After many years of searching for an answer her mother found a councilor who recommended that she try an Ibogaine detox clinic. Although it came off as a wild concept, everything we read or heard about it sounded great. What did we have to loose was the though? The programs claims were even so wild that when Andrea was presented with it, she was more willing to try than at any other time over the prior ten years of addiction. Who would not want to go to Mexico for six days and after 36 hours of treatment be completely detoxed??
Andrea has been clean for five years and is currently finishing up her college degree. She has managed to come back into the good graces of her family as well as many of her true friends. The transformation we have seen in her is nothing short of amazing. I guess you can say it was a true awakening, not only for Andrea, but also for all of us that know her. I would recommend ibogaine detox for anyone who is struggling with drug addiction.
I'm Dan, and already I have a problem. Which is, there are no words I can find to convey to you the depth of appreciation, respect, and gratitude I have for everyone, and I do mean everyone, at Clear Sky. Which doesn't mean I won't try, but, mere words are just that.
After doing endless research, I chose Clear Sky using both rigorous analysis, and intuitive feeling. Best decision ever. I'd been an ultra-high dose oxycodone addict using copious amounts of alcohol to catalyze its effect. My life was at risk.
I had all the fears one can have. About stopping, about continuing. About the process, could I endure it, and what about after? Would it work? Would I be in constant need even if ridding my body of the physiological need for the drug was gone?
Everything turned out as I'd hoped. And as perhaps you hope too for yourself, since you're reading this. The crucial distinctions that make Clear Sky are 1- The fact that there are two brilliant, experienced, and extensively trained doctors (and nurses) on site at ALL times, who oversee the entire process with precision, tailored to each individual. Essential. 2- Perhaps even more important, the unceasing love and compassion shown by every single person that works there. No judgments, no preaching, just clean, loving support.
My wish for you is to follow your instincts for recovery, and if you're serious, Clear Sky will bring it forth for you.
I just landed back in Atlanta and the experience I've had, is something that I can't quite put into words, but it is such a big and beautiful set of feelings, I am going to attempt my best (and keep it short).
This entire experience with Clear Sky has been such a ray of light, in this world that has so much darkness. It has touched me in a way that is beyond pure, but also refreshing, inspirational, and a true definition of love. From your help, to Martina, to the driver and my nurses (Ceci in particular) that met us at the airport, to Dr. Malacara, compared to almost every 'medical' experience I have had on this planet, this one shines like a million suns.
It did not take but a few minutes of being at the facility, for me to fully realize how special this whole thing is. The positive, humble and loving attitude of every single person in the facility, was my first sign. Talking to Marcela and a few of the guests, it was confirmed just how special this place is. It reminds me of the difference between being in the part of a hospital where children are being born versus where people are sick and dying. CSR had the feeling of life. Feeling of positivity. Just like the side of the hospital that births new life and in that analogous way, I can 'see' how Clear Sky is 'assisting' in the 'birthing' of new life, new beginnings for so many people.
Myself and my wife are both big proponents of plant medicines and have been trying to make this day happen for Jenny for quite sometime. I am also very aware and have no attachment to Jenny's experience. I have so much hope and faith that a great deal of good will come from this, but I am also clear the plant medicine is more of a guide and it really comes to the person wanting to truly make a massive change in their life. With that being said, I had done a great deal of research on Ibogaine and Clear Sky, so coupled with my experience today, regardless of Jenny's journey, I can see very clearly the work you/CSR are doing and I just want to say 'Thank you !' times a million. Again, in this world of so much suffering, it brought so many good feelings today, to see the work you do.
I am sure this will not be the last 'thank you letter' I send. Please feel free to share this with others.
Again, thank you for all your help and your beyond prompt responses, feedback, etc.
Take care!
My experience at Clear Sky was nothing short of life-saving. I am not the typical guest at Clear Sky, as I am an alcoholic. I am sober now for just over a year at the time of writing this. My fellow addicts and sufferers were dealing with opiods or cocaine, but what we all had in common was an inability to control the death grip our substances had over us.
Thankfully, the other thing we had in common was the amazing opportunity Clear Sky offered us – the gift of life. The staff, the experience, the setting and the safety of being at Clear Sky, made this otherwise nightmarish time in my life, turn into one filled with hope, respect and humanity – things that I felt I would never know again, things that had been lost in the throws of addiction.
That is all before the incredible, somewhat unbelievable transformative experience of Ibogaine. It was an intense journey, which brought things to the forefront of my mind that helped me to see both the desperate state I was in, and the other side of life – hope and healing. The feeling afterwards was like being born anew. I knew I had a life of chaos to return to and clean up, but I was given the gift of clarity and the obsession to drink was taken away from me! It was truly nothing short of a miracle.
It is critical to heed the advice of no drinking or drugs of any kind, regardless of what you are seeking treatment for, for the recommended time following Ibogaine. Don't let the clean slate feeling lull you into relapse. Personally, I have sought help from support at home as well through fellowship, which has helped tremendously to keep me sober. But, whatever your struggle or path, if you are suffering and obsessed, Ibogaine can truly help.
Reclaim your life. It's possible! Hope is real.
As the parent of a child who faced various forms of addiction, I, Guy, am amazed with Clear Sky Recovery in Cancun, Mexico, run by Dr. Alberto Sola. The complete resurrection of my daughter, both physically and mentally, is astounding. The attention and personal care given by Dr. Sola is proof that this rehab is truly a special place. I feel that this clinic saved my daughter's life and put her on a path to being a productive person. Thank you, Clear Sky Recovery, and thank you, Dr. Sola.
Thank you Thank you Thank you!
I'm just so amazed and appreciative. It really does work. I've been back for 24 hours and have managed to get 10 hours of sleep. Not all at once but 5 here and 5 there is pretty good. I had no withdrawals but what really makes me happy is that the obsession to use is gone. It's amazing. I feel like I'm a whole person again. I'm sure you've heard it before but I'll say it anyway. Clear Sky saved my life.
Thank you, I look forward to this next chapter in my recovery. Send my love to the best treatment team I've ever seen.
New Opportunities
Having recently come up on one year clean, it's only natural that I reflect on my growth over this past year.
I was fortunate enough to experience the journey of Ibogaine and the Clear Sky Recovery's program. It's hard for me to explain how grateful I am today. I have a life, and every day it continues to unfold in wonderful ways. Ibogaine gave me a glimpse of my future with drugs and life without them; the plant showed me that I did, indeed, have a choice between the two. I would not change anything in my path, because today I see that all will be well as long as I stay on the path that God intended me to take.
I truly believe that I would not be where I am today without Ibogaine. Today I wake up looking forward to what the day will bring. I have hope and love for myself and others. What a glorious freedom!
Relapse Prevention
The secret of health for both mind and body is not to mourn for the past, not to worry about the future, but to live in the present moment wisely and earnestly.
— Gautama Buddha
In the past 15 years, there has been a trend in addiction treatment to talk about relapse prevention. Previously, relapse was something feared and never talked about. Some professionals thought that focusing on relapse gave people the notion that it was inevitable and, therefore, offered no hope for recovery.
Today, due in large part to the work of Terrence Gorski, relapse is a focus in most treatment programs. Getting clean is the first step. Staying clean is the rest of the story. Also, shame about relapses is being reduced. Someone said, "Getting into recovery at the age of 25 and thinking you will never want to use or have a craving again for the rest of your life is unrealistic. However, talking about what to do when that happens, when you are feeling motivated and safe, offers strength and hope for long-term recovery."
Clear Sky Recovery holds no judgements about relapse. Many of our participants have a history of chronic relapse, multiple treatments and failed recoveries. They come to Clear Sky Recovery with a small shred of hope that "this time it could be different." The program staff is trained in various modalities of relapse prevention planning.
Ibogaine Treatment Reviews
Ibogaine Testimonials
When it comes to something as important as choosing a way to recover from addiction, or which ibogaine recovery center is right for you, there's just no substitute for doing your research. Reading ibogaine reviews, testimonials, and stories from actual people who have gone through treatment is one of the absolute best ways to get a sense of what's in store for you, what you can expect, and what a program's strengths and weaknesses are.
This is especially important in the context of ibogaine testimonials. That is because ibogaine treatment is very cutting edge, and there is not a wealth of information from traditional sources. Furthermore, ibogaine stories give you personal insights that you can't get any other way. For something as personal as the ibogaine recovery experience, this is invaluable.
When you look at the ibogaine reviews from real patients and families, you start to see just how profound an experience Clear Sky Recovery is. Many times, you will hear that the program literally saved the life of a patient, and the family dynamic at the same time. Clear Sky Recovery makes families feel comfortable, because unlike so many other clinics, it is owned, run, and supervised by a medical doctor.
Patients telling their ibogaine stories reveal how comfortable and cared for they felt in treatment. And although they of course did the work in their own recovery, they are also filled with gratitude; this is as much a result of the mental and emotional reset they get from their ibogaine treatment as anything else. Clear Sky's ibogaine clinic reviews at times even read like resort reviews, with patients talking about pilates, yoga and fun in the sun – until you get back to the essential point: freedom from addiction.
Our entire team is eager for anyone searching for more information to read the Clear Sky Recovery ibogaine treatment reviews, because they reveal how life-changing the experience truly is. For almost every patient who passes through the clinic, the experience at Clear Sky Recovery becomes the defining before and after moment in their lives. Even people who had been addicts for decades indicate complete recovery in their ibogaine reviews. What a stunning difference.
These are real ibogaine reviews and the life stories of real people. As you read their ibogaine stories – and life stories – it is impossible to not feel the tug of compassion. How defeating it must have felt to try and try to live without addiction, only to fail. Finally, though, each story ends in success! This is the reality of Clear Sky Recovery.
Freedom, Healing & Empowerment
Clear Sky Recovery has helped numerous patients conquer their addictions, and changed countless lives in the process. Our ibogaine testimonials from people prove that recovering from addiction to heroin, cocaine, methamphetamine, and more, is all possible. In fact, at Clear Sky Recovery, it happens every week. Our ibogaine reviews and stories come from real people who have struggled with addiction, just like you. The only difference is, they have had great success with ibogaine treatment from Clear Sky Recovery. Read their ibogaine stories and discovery why Clear Sky Recovery is the best ibogaine treatment center in the world.

Freedom, Healing & Empowerment